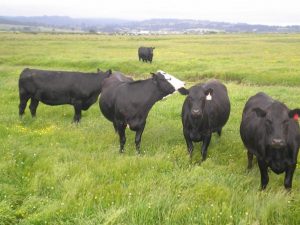 Organic Grass Rich in Nutrients
Our cattle are 80+% Angus bred with other European breeds, and they thrive on grass.
Our certified organic pastures are located along or near the Pacific Ocean. Depending on the time of year, we have cattle grazing in the Eel River Valley, the mountains, the Sacramento Valley, the east bay of San Francisco and the Central Coast. During inclement weather the cattle have shelter available with hay and alfalfa—a necessity during winter storms.
The pastures offer a mix of rye and clover, grown in soil rich with nutrients and microbes that thrive in the organic environment. This superior quality food plus a healthy life outdoors result in a flavorful, lean beef with two to six times more Omega-3 fatty acids and vitamins E, C and Beta-Carotene.
Below are some photos taken out in the pasture:
On the left side in photo below is rye grass with clover on the right

Below, a healthy mix of rye grass and clover from another pasture

We're always happy to hear from our customers, so please contact us for any questions or feedback. Find a store in your area.