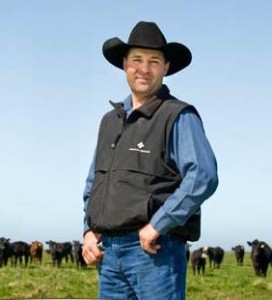 The Eel River Organic Beef Commitment To Quality
Clint Victorine, a native of the bountiful Eel River Valley in Northern California, began raising beef while in High School. As an active member of Future Farmers Of America (FFA), and then continuing his education at Cal Poly University in San Luis Obispo CA., Clint majored in Ag Business. After graduation in 1996 he pursued his interest and passion in the beef cattle industry.
Victorine Livestock was later formed, consisting of a commercial cow calf and commercial stocker cattle operation. Then in 2000 Clint started finishing cattle on grass for Eel River Brewing Company, a local brew pub. As their business grew they eventually went organic with their variety of beers and the owner convinced Clint that organic was the right move to make. Eel River Organic Beef, a subsidiary of Victorine Livestock was formed.
Today Eel River Organic Beef is excited to offer our 100% Certified Organic Beef to the health and environmentally conscious consumer. We're confident that you'll find our beef very pleasing to even the most discerning palate.
Clint, with a little help from Dad, Dave Victorine, personally cares for the cattle from start to finish. Our promise to you, the consumer, is that the product you are receiving is the safest and free of all antibiotics, growth hormones, and have not been fed any feed additives or animal by-products, eliminating all risk of BSE (mad cow disease). These are the assurances that you get when you buy Eel River Organic Beef 100% certified beef by CCOF.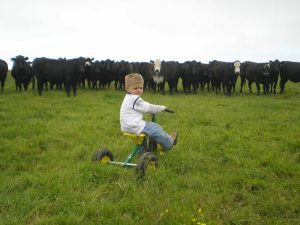 Eel River Organic Beef is located in the remote North West corner of California in the Eel River Valley surrounded by lush green sub-irrigated pastures and giant Redwood trees. Because of our mild climate with an average yearly temp of 54.5 degrees F and average rainfall of 38 inches per year, our grass fed beef graze on lush green pastures year 'round. Eel River Organic Beef is proud to boast that we raise the finest and healthiest beef available.
Because we meet their strict standards and are certified by California Certified Organic Farmers (CCOF), and we don't depend on outside feed sources, our consumer is assured 100 % confidence in the freshness and quality of our Certified Organic Beef. You can bet that you get what you pay for when shopping with us. We adhere to each and every guideline as set forth by CCOF and the USDA National Organic Programs.
To meet organic certification standards, all cattle must remain and graze on certified pastures, and must not be given any antibiotics, growth hormones, feed additives, or animal bi-products beginning as early as the 3rd trimester of pregnancy.
Our cattle graze on approximately 50,000 acres in and around the beautiful Eel River Valley in Humboldt County of Northern California. Our cattle are always given plenty of open space, fresh air, and clean water. We have found that by allowing the cattle plenty of room to roam with an abundance of fresh grass to graze on, and by keeping stress to a minimum, we have been able to eliminate many of the problems conventional ranches face, and therefore eliminating the need for antibiotics and growth hormones in the cattle we raise. Bottom line . . . our beef cattle are naturally healthy.
Unlike conventional cattle and many organic cattle, our cattle remain on certified organic pastures their entire life, never being placed in feedlots for finishing, before they are harvested. By setting these high grass-fed standards, we can assure you that you the consumer are receiving the highest quality, healthiest grass-fed product available. Our cattle never leave the sub-irrigated clover and rye grass pastures they are accustomed to. Also, these pastures allow us to finish a high quality grass finished product that is a pleasure to eat and healthy all at the same time.
Our meat is processed by Redwood Meat Co. They are a small family owned and operated facility in our area. They are a USDA inspected plant and also certified organic by CCOF to insure that the meat you are buying passes the strictest guidelines to insure your safety. As they are a small facility, everything is done the old fashioned way . . . by Hand. We control every process, from start to finish, so you can count on getting the highest quality product possible.
"To your health and to our environment!"-Clint Victorine
Miles To Market Fresh! Eel River Organic Beef can proudly boast the fact that we produce the best quality grass-fed product, and we get it from grassland to market with minimal impact on the environment with as few Miles to Market as possible. Our beef doesn't come from the Midwest, Australia or South America. It is raised and finished right here on the West Coast. Our processing plant is just minutes from our ranches. No long distance shipping, unnecessary use of fuel, and no stress on the animals. With local distributors we quickly get our reliably fresh product from our ranch to your market of choice in a timely fashion with the least negative impact on the environment as possible.
Here at Eel River Organic Beef, our grass-fed, grass-finished cattle graze thousands of acres of lush green pastures year round. Our animals are always given plenty of open space, fresh air and clean water. We're a small family-run operation in Humboldt County, California. We're proud of this pristine country and work hard to do our part to ensure that everything we do benefits the environment as well as the health of our animals and our customers. Our beef is organic, delicious, naturally healthy and a product of the USA.